Cutaway Comics' main influence was the back-up strips in Doctor Who Weekly. These adventures never featured the Doctor, but rather imagined a somewhat grubbier universe that had been left to fend for itself.
Our very first back-up strip THE DEMONS OF EDEN charts a return to the planet Eden - the deadly paradise introduced to us in the much loved Doctor Who story Nightmare of Eden written by BOB BAKER for Tom Baker's Doctor back 1979.
Written by IAN WINTERTON with art by Doctor Who Magazine legend, MARTIN GERAGHTY, we're about to learn that Mandrels are by no means the deadliest life form on Eden.
Here's the synopsis
On 'Haven World' Eden – infamous as the source of addictive drug Vraxoin – Space Corps marine turned ordained nun KHEBA YANS stumble upon a party of thrill-seeking super-rich trillionaires, here illegally to hunt the creature Kheba longs to study – Eden's apex predator, rumoured to be part-demon, the Sarzok.
The expedition's grizzled leader, CONVERY, has less time for the warnings of a prissy pacifist nun than he does the bleatings of his spoiled customers, but Kheba's fears are soon realised – the Sarzok is more than a match for a few well-armed humans. Especially after dark...
Nuns, guns and the fearsome flora and fauna of Eden. It's 1979 all over again! We're thrilled with how this strip is shaping up, just check out the opening page below!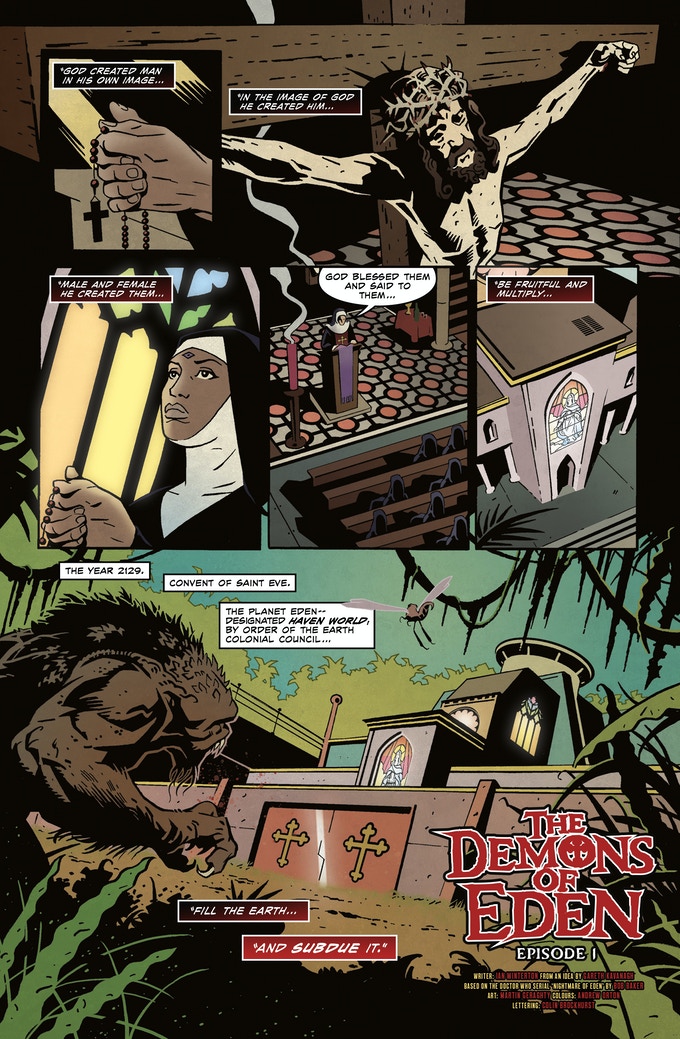 THE DEMONS OF EDEN will be featured across the four issues of OMEGA with a deluxe collected edition available later in 2021.
Eden and associated concepts are used with the kind permission of Bob Baker and Paul M. Tams.